On February, the 8th, 2012 the cycle of seminars «Ecological hour» has been opened by excursion of tenth-graders of school № 162 at Alcoa SMZ. The meeting theme corresponded to a seminar: «The Industry and city ecology on the example of Alcoa SMZ».
Irina Konstantinova - the school coordinator of the project «Green city» accompanied school students to the Alcoa, and at the plant Olga Kayomova was the mistress of a meeting. Excursion has made an indelible impression on the school students. They were surprised by the impeccable cleanliness of facilities and definition of the working rhythm. Under the impression of the excursion, many schoolboys have wanted to write an ecological essay on this theme. Here is a response about action of one of participants:
Anastasia Galitskaya –school student of the 10th grade, school № 162:
"On the ecological action in the Botanical garden Alcoa СМЗ has presented to us the certificate on excursion to the plant. And now, February 8, 2012, everything had happened. All was according to safety precautions – 15 persons in protective equipment (the special boots which are not passing a current, helmets, warm jackets, points and earplugs) went on specially designated paths.
At first we have visited a factory museum where have learned about history and factory activity. Then we felt ourselves "directors", sitting at a long oval table in a conference hall. After that we have gone on a line for lacquering of rolling plant. There we have been acquainted with process of varnishing of aluminum by means of the modern equipment. The excursion flew quietly, but not completely: the tour participants write an essay on "Industry and Ecology of the example of Alcoa". Thank you and see you soon! "
()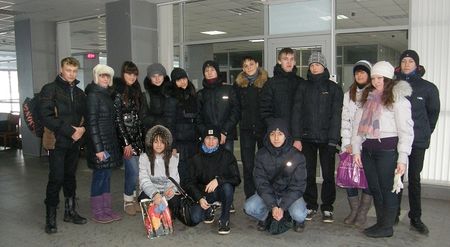 1. Аt the entrance of the plant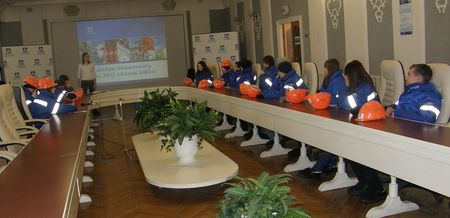 2. Olga Kayomova told about the Alcoa Company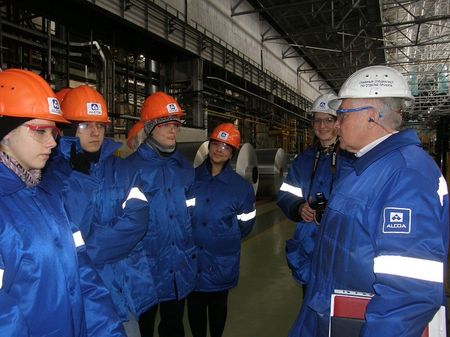 3. Line for lacquering of rolling plant