Back in 2011, teachers of our sponsored schools developed their landscape projects, landscaping school grounds and planted the first plants. This year, Training Center continues to organize the series of environmental actions in the schoolyards.
On September 25, 2012 in the school territory pupils of the 2nd class continued expansion of the «Eco zone» and established there the environmental stand. The Assistant of the Samara District Ataman of the Volga Cossack army - Vladimir Kolbasin helped children with this difficult work.
Initially events Vladimir Kolbasin told about Cossacks, their role in the history of Russia, the Cossacks always protect justice for the people. And now the Cossacks regulary participate in environmental actions. After this brief «Ecological hour» students under the guidance of a biology teacher Shishkina Galina enthusiastically started planting 11 bushes of forest rose bushes and 6 fieldfare ordinary and landed to the school fence girlish grapes. Boys will gladly dug soil under plants, but not behind them and the girls also prepared well, planted, brought water to irrigate the planted trees.
After dropping of 36 vines, 10 young volunteers engaged in planting birches 5 and 7 ash. By the way, guys despite young age, already have experience in environmental work. Even in the first grade, they took part in the scientific work on the investigation of the state of the trees in the school yard. Per tree was compiled ecological passport and given their characteristics. Unfortunately, at the school are dead trees that need removal. Work in this direction is conducted by the teacher of biology.
Vladimir Kolbasin together with the deputy director of Training Center Irina Zubkova was engaged in installation of the environmental stand then together landed before the notice 50 bushes of a long-term Alpine aster.
The action was conducted throughout the program «Green city» and opened the our new project professional orientation of students "Environmentalist as a lifestyle". In an hour of active work on a schoolyard 115 plants were landed (50 plants were landed by to the program «Green city» and 65 plants - due to the program professional orientation of students "Environmentalist as a lifestyle").
()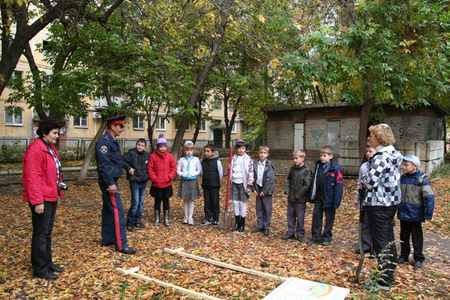 1. Conversation with Vladimir Kolbasin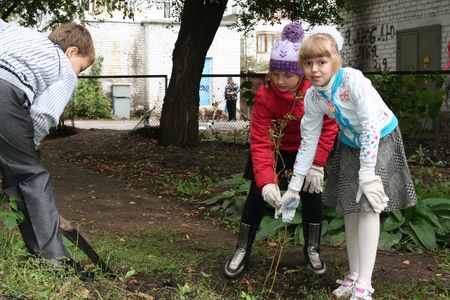 2. We plunt roses!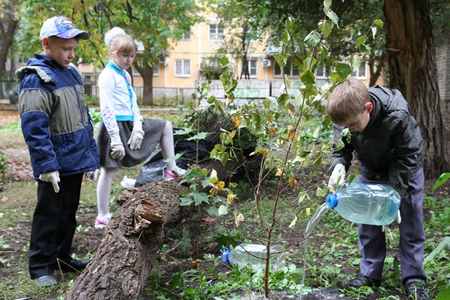 3. And watering birches!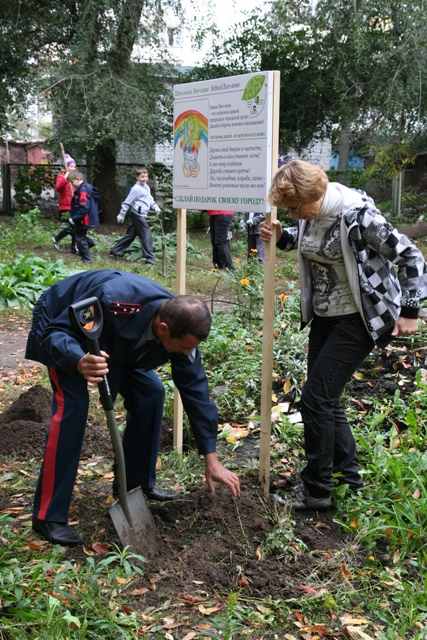 4. Stand installation - is responsible work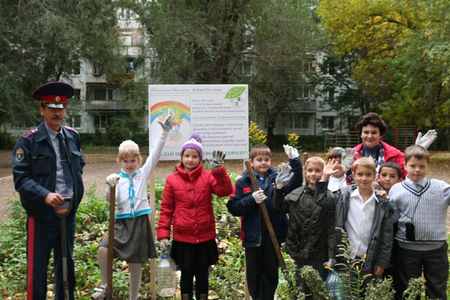 5. Worked wonderfully well!