On May 13, 2013 the Botanical Garden of the Samara for the first time this year took the young assistants. Volunteers were students of sixth and seventh grade school number 147 GO Samara.
During the "Environmental hours" held in winter, the students got a lot of information about the structure and tasks of the Botanical Garden, and its role in the ecology of the city. Now the students are full of strength and self-confidence, and are willing, under the strict supervision of the chief of department of flora Botanical Garden Irina Ruzaeva and their spiritual guide biology teacher Galina Shishkina apply knowledge and to contribute to the beautification of the garden.
School children have been active on two large sections - "Zhigulevskaya Hill" and "Steppe area." Despite the very hot weather, the guys quickly and efficiently conducted with partitioning the territory for the next planting plants, and cleared the area of overgrown weeds and twigs.
After work, everyone enjoyed a snack cakes and juices, prepared by Training Center. During a well-deserved snack schoolchildren assessed by the amount of work performed by them, and said that would be happy to continue to help in the improvement of the Botanical Garden.
The action was attended by 12 students at the school number 147.
«Green City» program is supported by the Alcoa Foundation and Alcoa SMZ volunteers.
()

1. We will help the botanical garden!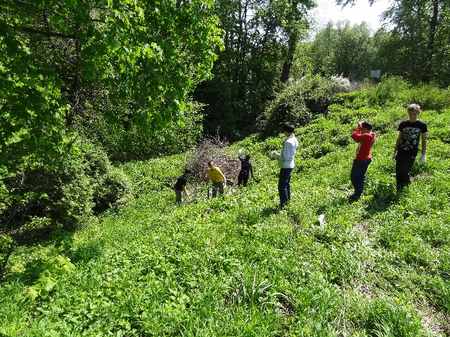 2. On the "Zhigulevskaya Hill" is working


3. Vast areas of the Botanical Gardens require constant care