October 21, 2016 held at once three "Environmental hour" on the theme of water in the form Quiz "Samara Water Plumbing (or River-Water tap-Man)".
"Eco-hour" held a teacher of biology and ecology of the school number 147 Galina Shishkina, and in this day seminars were held for the students of 7A class (18 students), 6 A class (22 students) and 5 B class (21 students).
Students evidently saw the importance creating a water supply system for the city. His opening took place on October 14, 1886, and it radically changed the life of our city: from the dirty, dusty, littered it in a few years has become a garden-city with parks, gardens, flower beds and fountains.
Quiz questions were on the knowledge of the history of the Samara plumbing water, use of river water for the needs of the city, the development of water resources protection system.
This seminars is a part of the "Protecting the Eco-system of the Samara River" Project, which performed with the financial support of Arconic Foundation.
()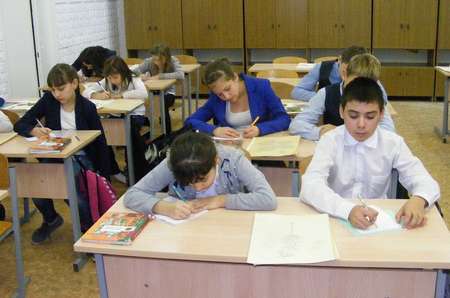 7A class: Questions of the quiz is very exciting